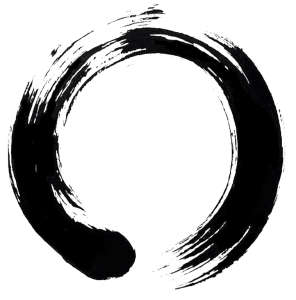 Exploring Life Force
Excerpt: © Copyright, Julian Gresser, Piloting Through Chaos—The Explorer's Mind (Bridge 21 Press March 2013), March 2013, All rights reserved.
Three Practices to Develop Life Force
Standing like a Tree
(The following is based on Ken S. Cohen's teachings. See: The Way of Qigong—The Art and Science of Chinese Energy Healing, 1997; see also the video below)
Hold your rounded arms out in front about two to three feet in front of the chest at shoulder level, fingers pointing toward each other, elbows pointing downward, arms about six inches from your body, as if you are embracing a beach ball or a tree trunk.
Relax
Root—sink your weight and qi through the feet into the ground—like a tree with deep roots.
Keep feet parallel, flat on the ground.
Keep your knees gently bent.
Maintain the spine straight and long.
Keep your chest relaxed, not distended or depressed.
Hold your head suspended, imagining a string lifting your head.
Keep your eyes slightly open with a soft and peaceful gaze.
Breathe through your nose; let the breath become slow, long, deep, smooth, and even.
Keep your mouth slightly open, with the tongue touching the palate.
Stay open with direct and peripheral awareness.
Inner Smile
There is a simple and elegant qigong practice called the "Inner Smile," which is an effective way to cleanse the mind and restore peace and happiness. The formal practice was first published by Mantak Chia. Elizabeth Gilbert, author of Eat, Pray, Love, learned a similar practice from her Balinese teacher, Ketut Liyer, in her first encounter: "Why they always look so serious in yoga? You make serious face like this (he demonstrates), you scare away good energy. To meditate, only you must smile. Smile with face, smile with mind, and good energy will come to you and clean away dirty energy."
Mantak Chia—Please enjoy his video:
Musical Herbs
Might it be possible to "download" the creative energy of some musical geniuses directly into our living cells and thereby augment our own life force? Try sampling these:
For triumph: (Handel Organ Concerto, concluding chorus from Esther)
For hope: (Mozart arias from the Marriage of Figaro and Cosi Fan Tutte)
For steadiness: (Handel overture from Sampson; Bach Well Tempered Clavier fugue of bells)
For Promethean energy and power: (Mozart's Jupiter Symphony; Mozart Piano Concertos nos. 20 and 24, especially Daniel Baremboim)
For mad frenzy: (Beethoven, Kreutzer Sonata; especially Itzhak Perlman and Vladamir Ashkenaszy