Move #10




Celebrating Laughing Heart Advantage




The essence of Creating Your Own Luck is positive feedback. When we cultivate our powers of qi and love, good things are attracted to us. When we pay these forward without asking anything in return, a powerful spiraling effect is produced called "Laughing Heart Advantage™."

We can observe the effect in an enhanced sense of community vitality, resilience, renewal and connectedness. (1) If we were to describe Laughing Heart Advantage mathematically, it would be the sum for a defined time period of each player's enhancing vitality, multiplied by that of every other person, continuously compounded by the influence of the enabling IT system. In other words, the Intelligent Guide itself learns and supports each player, thereby itself becoming a contributor to the community's Laughing Heart Advantage. An additional element is increased synchronicity, or chance events appearing spontaneously that have special significance or meaning for those involved. It is not certain whether synchronicity is an expression and/or a contributing cause of Laughing Heart Advantage (2).

Laughing Heart Advantage comes from a world based on abundance rather than scarcity. There is no more powerful way to celebrate its exuberance than the creative and performing arts, festivals, and storytelling. By making Laughing Heart their theme communities can set in motion expanding circles of health, wellbeing, kindness, and joy. (3)

It is interesting to ponder whether it is possible to describe mathematically what begins to happen when entire communities start to embody and implement the principles of Laughing Heart or Big Heart Intelligence.
---
---
Author's commentary
---
---
How can the Intelligent Guide enable this "emergent" process? We will write a software program with three objectives:
1. Develop a rich database of individual contributions taking many forms—ideas, audio, images, threads and so forth.
2. Analyze, map, and aggregate the individual contributions into a coherent interconnected network.
3. Express these individual contributions in a coherent "big" picture." One example is the Apollonian gasket portrayed directly below. Participants will have many other metaphors from which to choose depicting their position in the overall process—a mandala, garden, starry night, or a future-scape. (4)

Below is an artistic embodiment of Santa Barbara's creative Laughing Heart.
Move  # 10—The last move is easy: simply ask yourself "What are some imaginative ways I can expand my own Laughing Heart Advantage by enhancing the Laughing Heart of the community?" We welcome your ideas and suggestions. There is an interesting "happy rider" quality in all of this: whether you decide to engage or not, Laughing Heart cannot be constrained. It cascades like happiness. As the writer Shawn Anchor suggests in his best seller The Happiness Advantage, happiness is not an end but a cause. It is the same with Laughing Heart. The more a community's Laughing Heart opens, the more everyone will enjoy a Laughing Heart Advantage.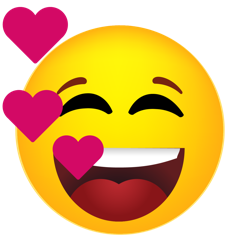 ---
Emotive Reaction Range? Hints: community, resilience, flow, epic, connectedness, gathering, emerging, evolving, transformation